Anpachi Town, Gifu Prefecture. There is a town called Anpachi, a sprawling rural area bordered by Nagara and Ibigawa Rivers, which is also known for the wall art of Roam Couch that is scattered throughout the area. We took a bicycle tour of "Anpachi Town," a town where nature and art coexist.
About Anpachi Town
Anpachi Town is a small town with a population of less than 15,000. It is surrounded by the clear waters of Ibi and Nagara Rivers, and has a peaceful rural landscape.
Surrounded by the cities of Ogaki, Hatori, and Mizuho, it is only a 30-minute drive to Nagoya, which should give you an idea of what it is like.
The cycling starts at Ogaki Castle, located about 600m south of JR Ogaki Station.
About Roam Couch
Roam Couch is a street artist from Ampachi Town, who is highly acclaimed in countries around the world.
Although his name suggests a foreigner, his real name is Ryo Ogawa, and he calls himself Roam Couch.
His art technique is stencil painting, in which dozens of layers of hand-cut stencils are layered on top of each other and colored with spray paint. The stencil art, which utilizes the traditional technique of Japanese ukiyo-e prints while drawing in a unique way, is very interesting and different from the conventional concept of stencil art.
Emotional Bridge Project
"Emotional Bridge Project" has been held since 2014 to give back to Ogawa's hometown, and many visitors come from far away to see the free mural paintings. I am one of them.
The artwork featured in this article is the result of this project.
WHEN YOU WISH UPON A STAR / VENICE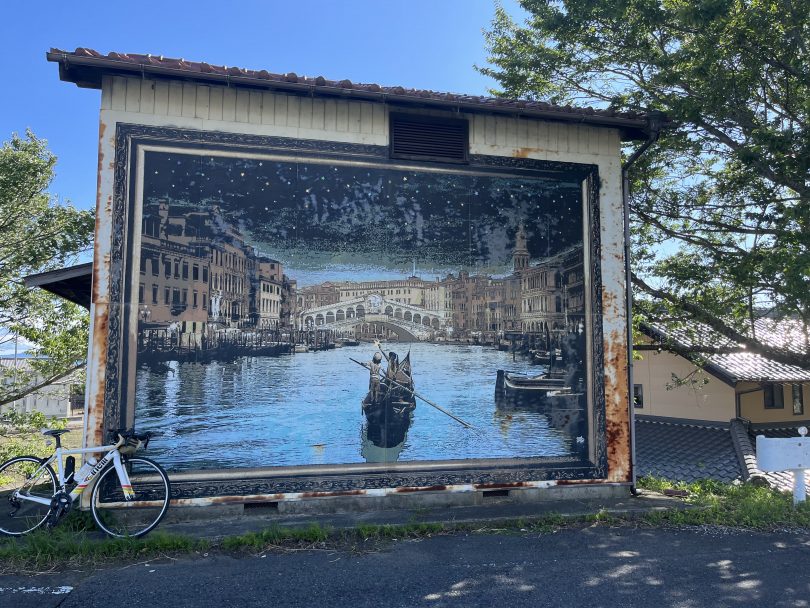 Art x Ride, started at Ogaki Castle
I had only seen photographs of art painted by the stencil technique, in which colors are sprayed on dozens of individually hand-cut plates and layered on top of each other. So I was thrilled to be able to see the real thing for the first time, and started at Ogaki Castle in Ogaki City, next to Ampachi Town.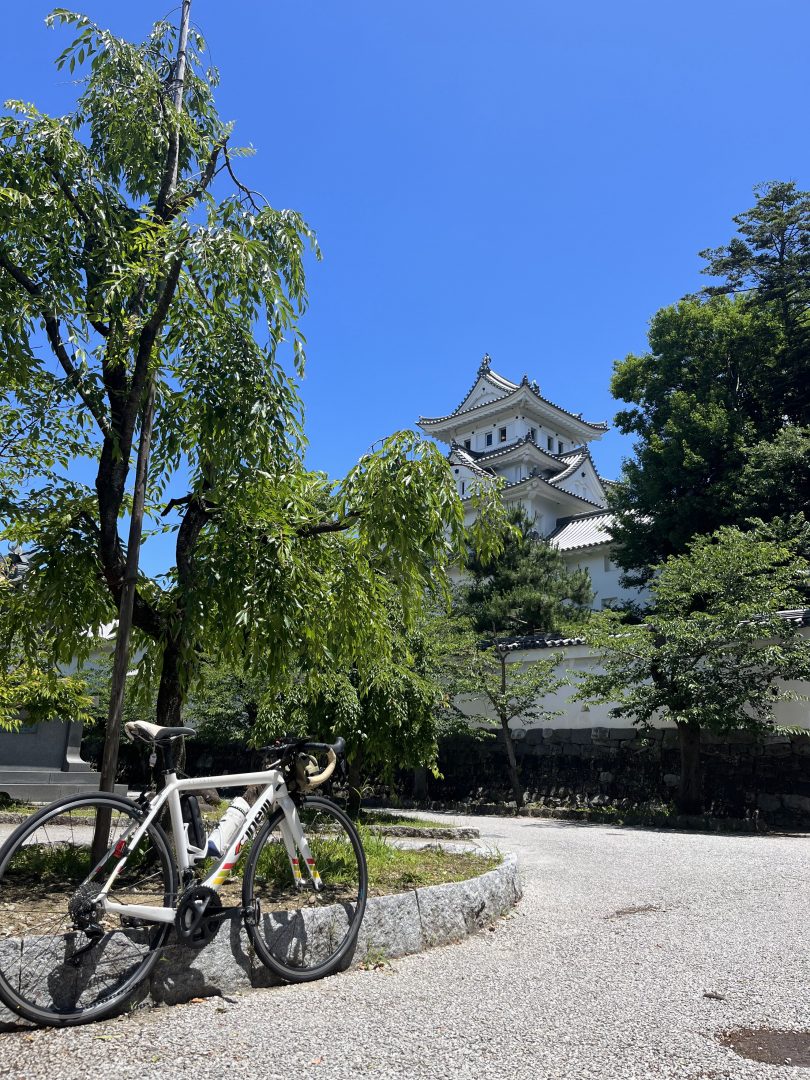 Touring the many artworks
From the bridge across  Ibi River to Ampachi Town, I saw the first artwork by an elementary school. I was very impressed.
WE ARE THE WORLD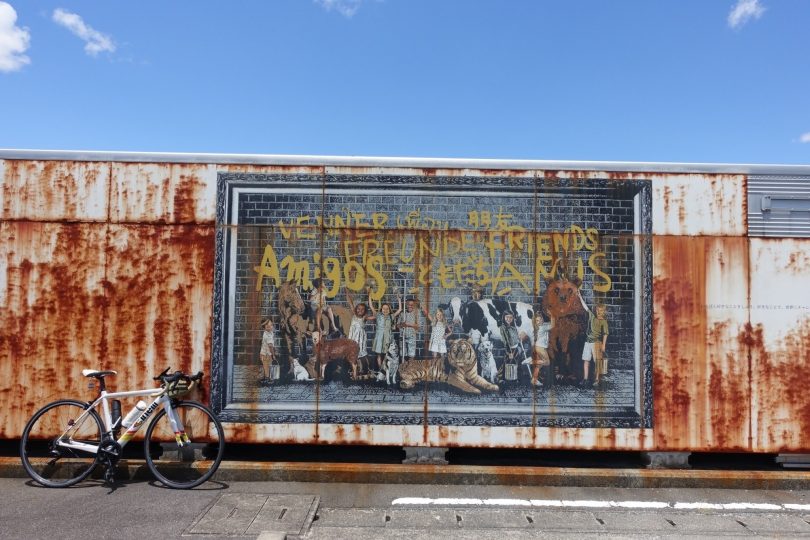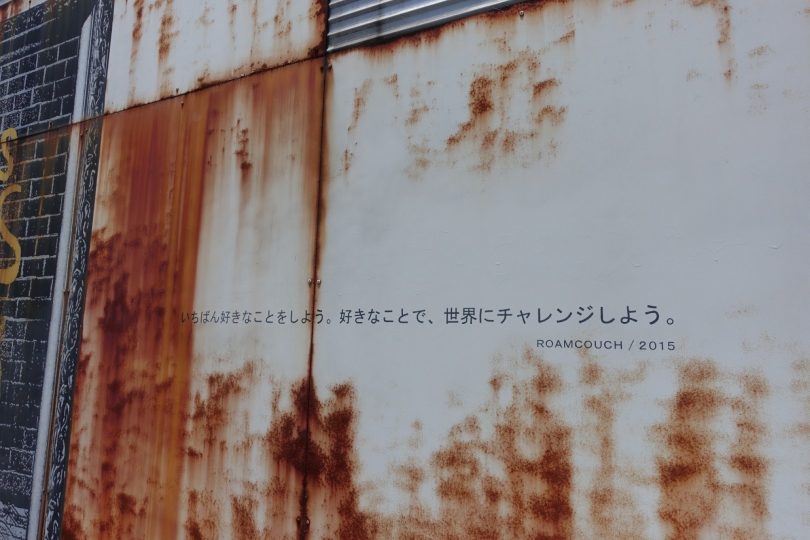 A work of art by the elementary school where he was born. A message to the children was also attached. It was heartwarming.
RAINBOW INC. / BROOKLYN BRIDGE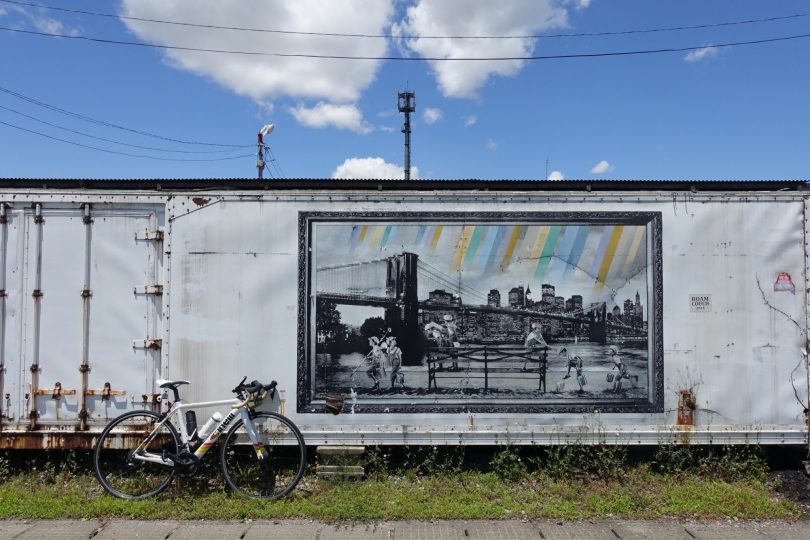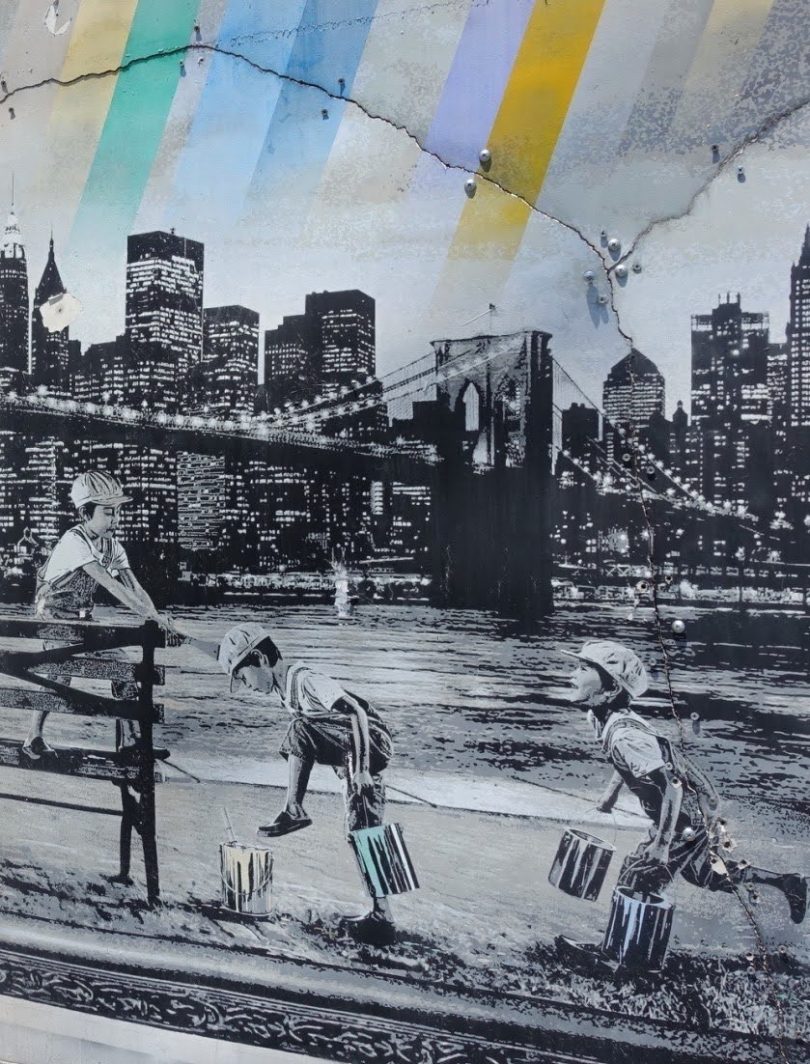 LONDON CALLING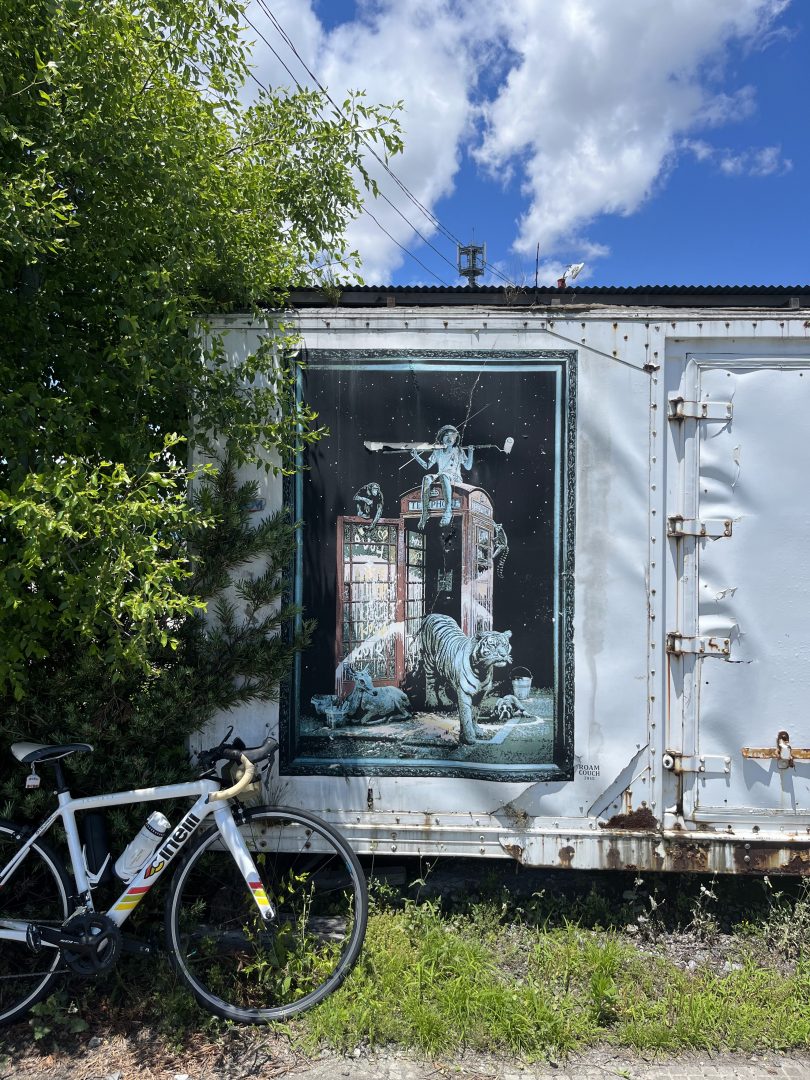 YELLOW MAGIC ORCHESTRA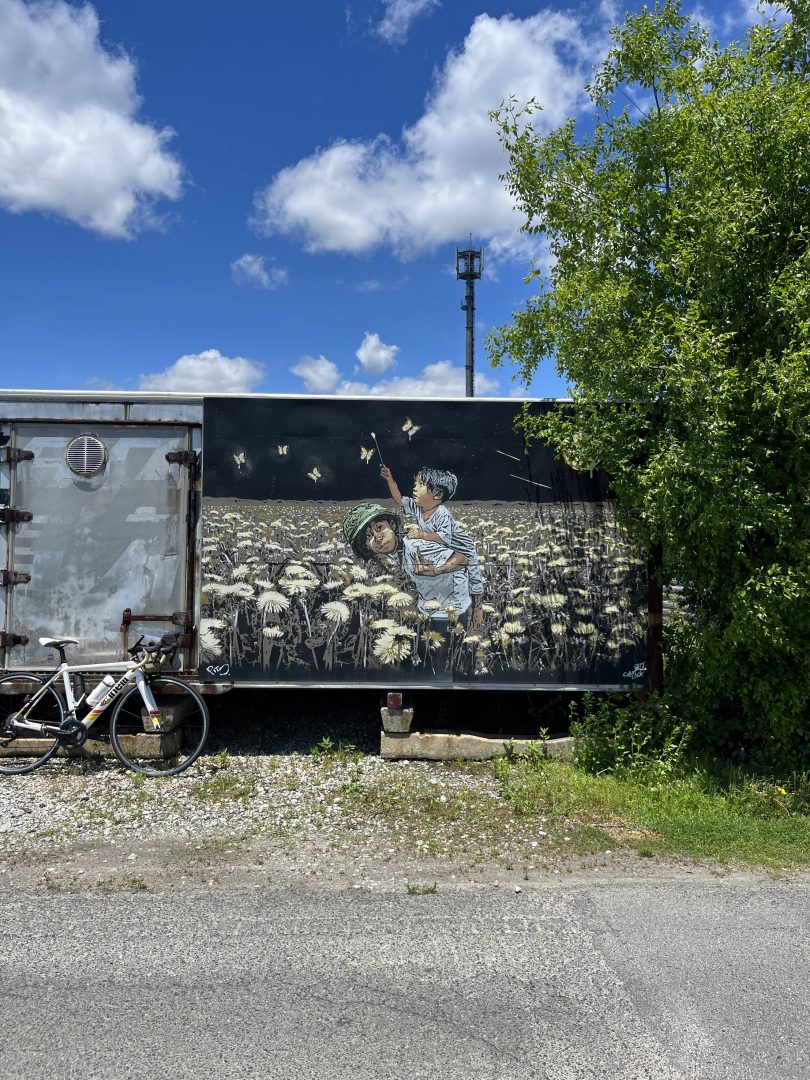 Early works painted on containers.
The number of works has increased over the years, and now more than a dozen works can be seen in Ampachi Town and Ogaki City.
ARMORED PURE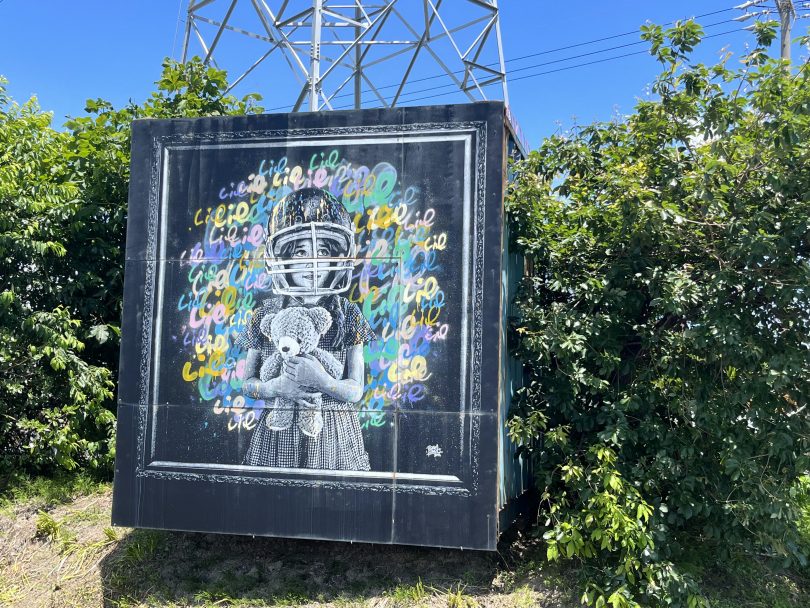 MIDNIGHT RECITAL / Night Music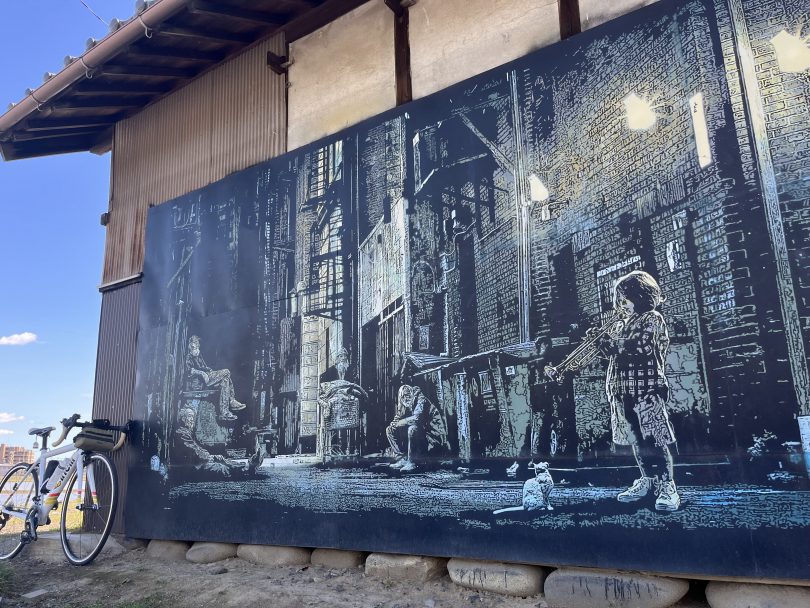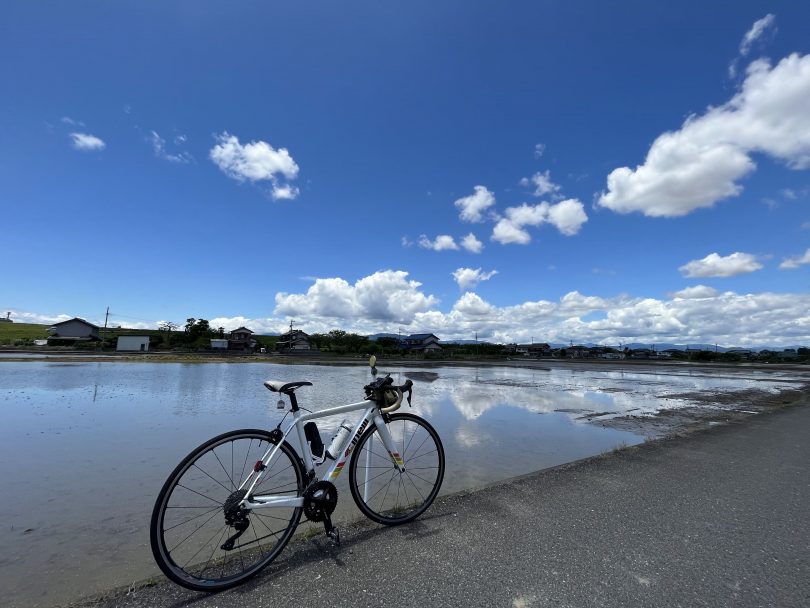 When we visited, it was just around the time of rice planting. You will be able to see the artworks while driving through the town with its rice paddies.
WHEN YOU WISH UPON A STAR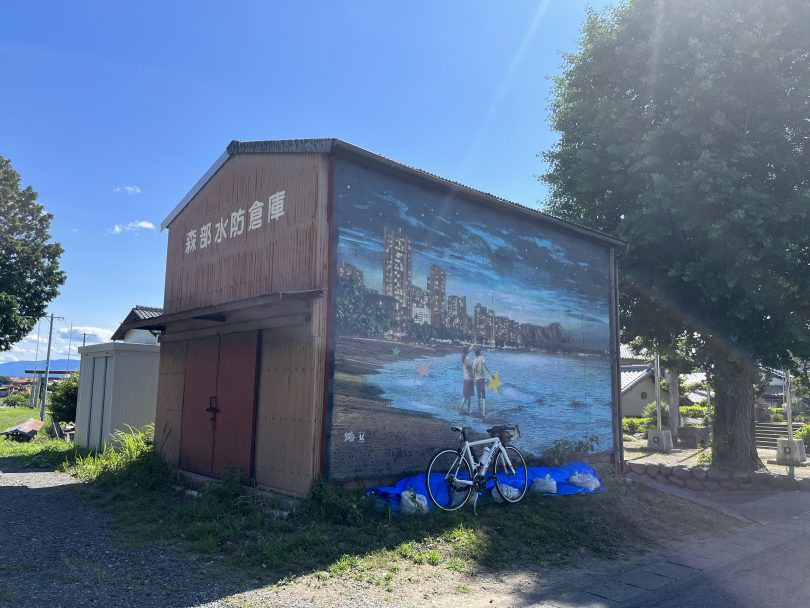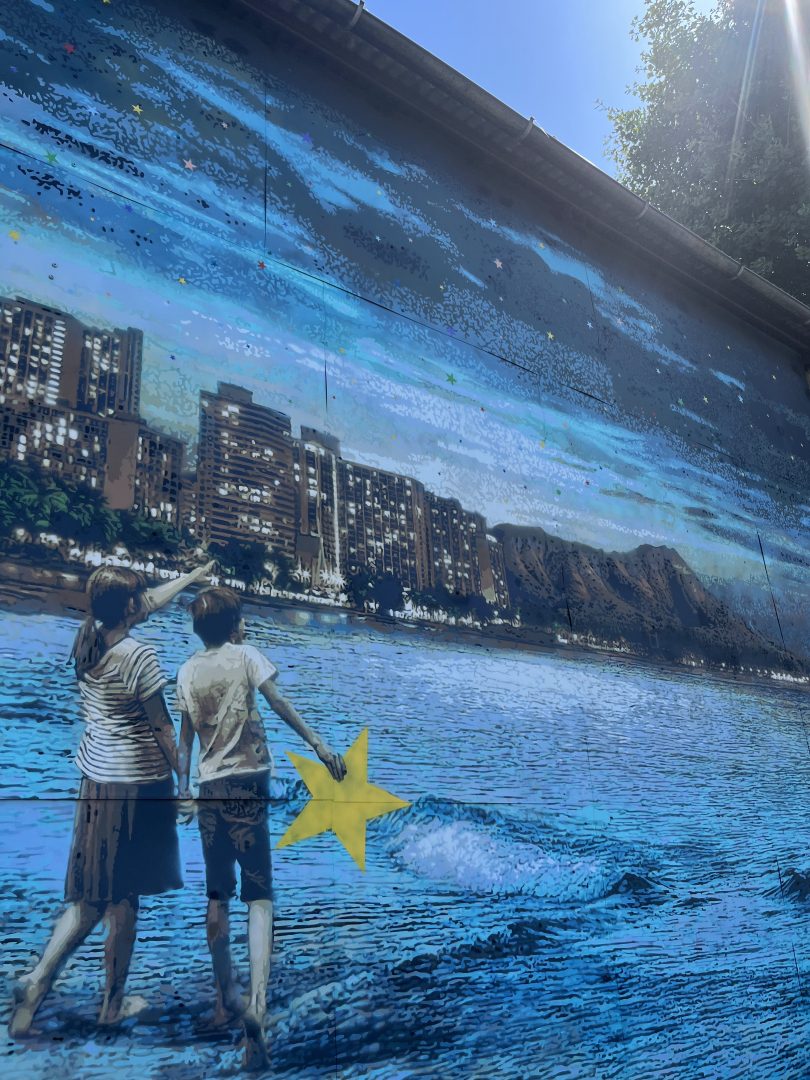 This work was painted on a flood prevention warehouse. In this area, which is bordered by a large river, there are many warehouses here and there for storing sandbags and other materials.
RAIN CALLER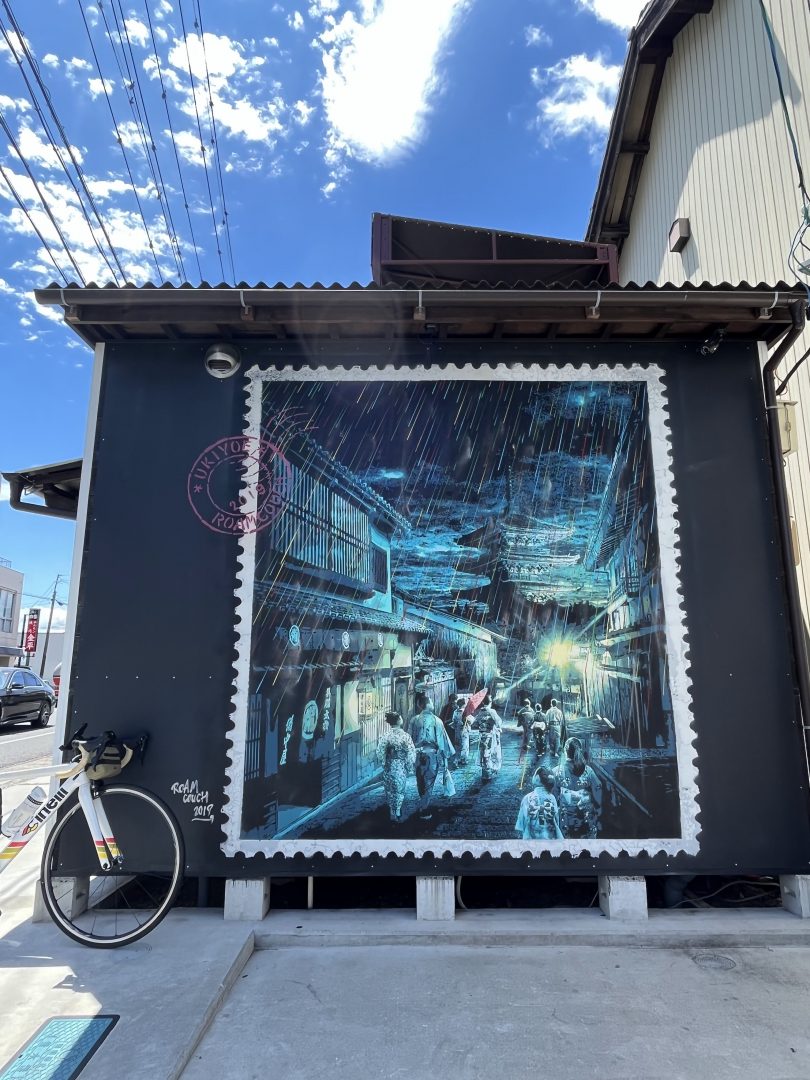 Japanese style works are also nice. The work was displayed on the exterior wall of Koujin, a Tsubo Yaki Imo (small sweet potatoes cooked in a crock).
FOUR SEASONS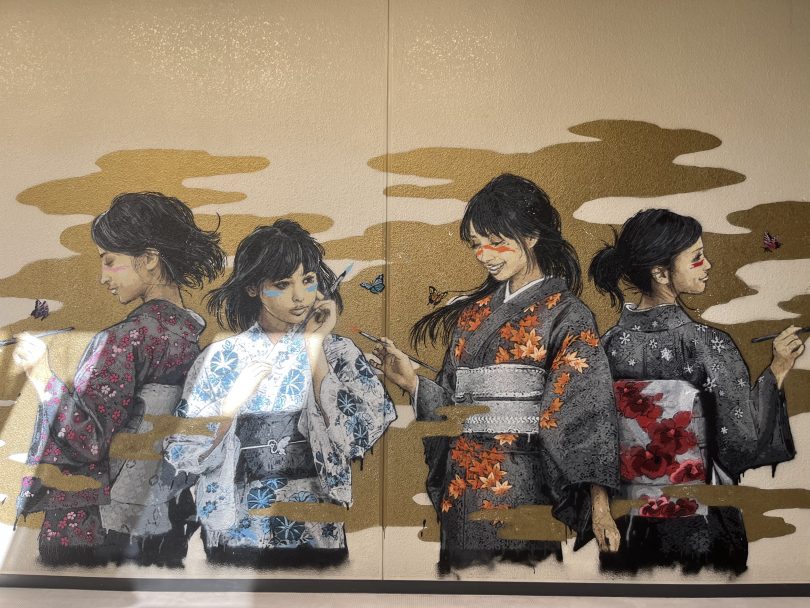 This work is located in the lobby of the Sports Arena. When we told the receptionist that we had come to see the artwork, she was very kind to show us around. It is a beautiful work based on the theme of the four seasons.
TAKE MY HEART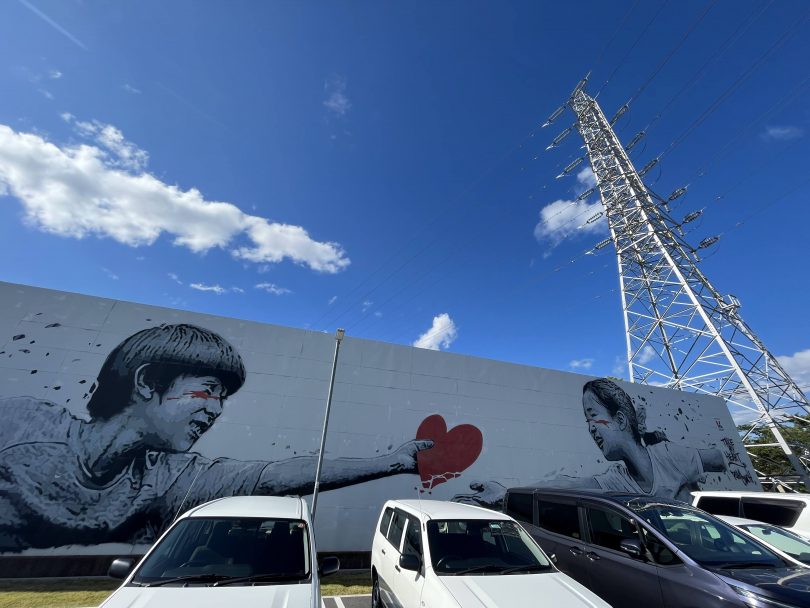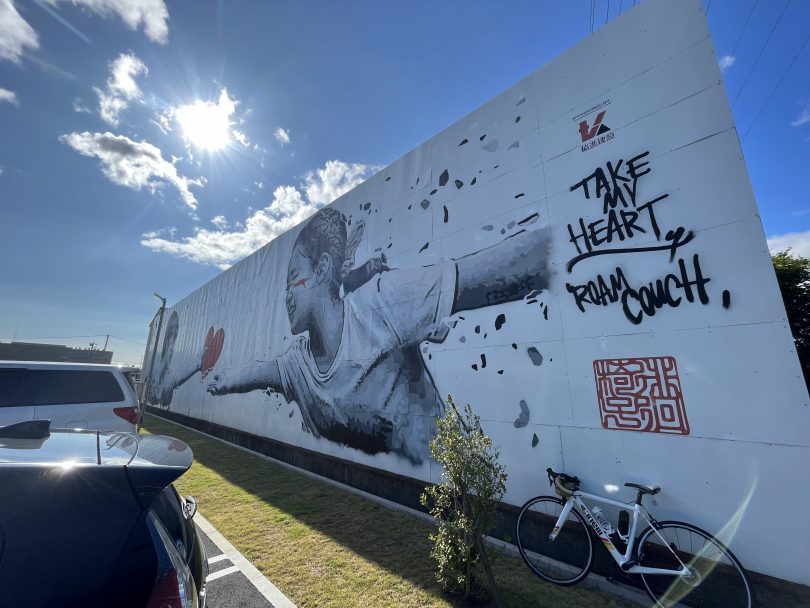 VEGE FARM OGAKI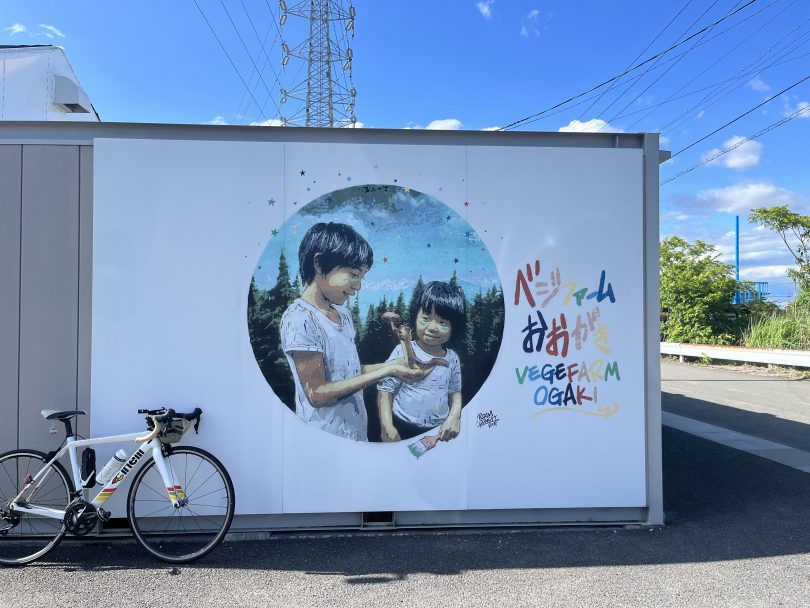 These two works are located in Ogaki City. The size of these two works is overwhelming.
WHEN YOU WISH UPON A STAR / PARIS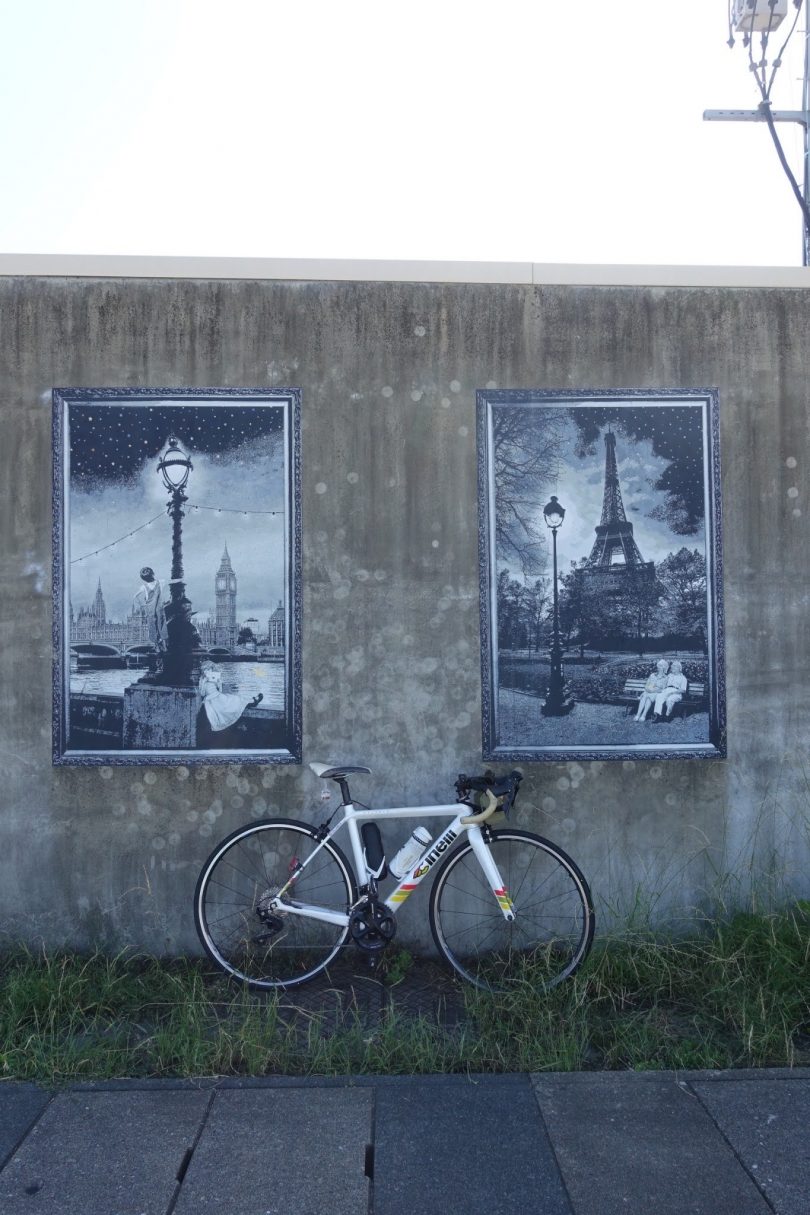 GROUND ART WALL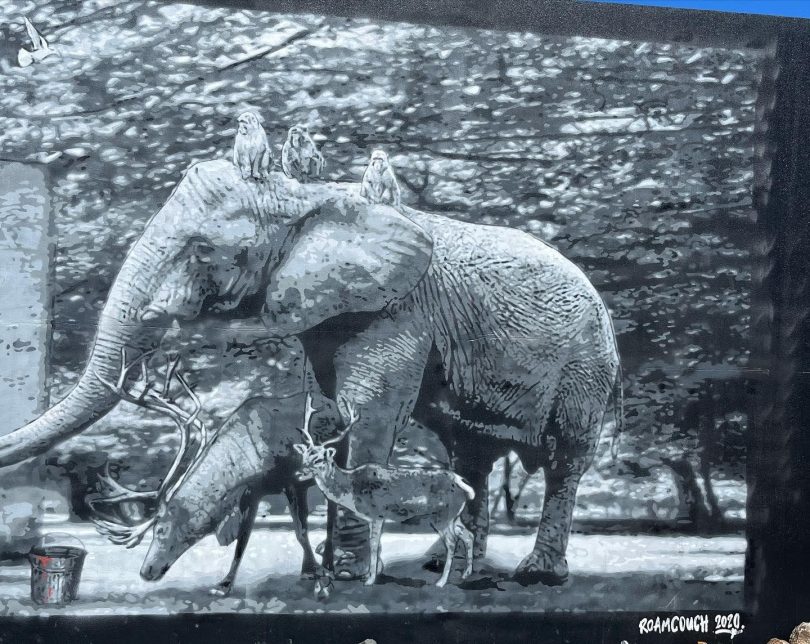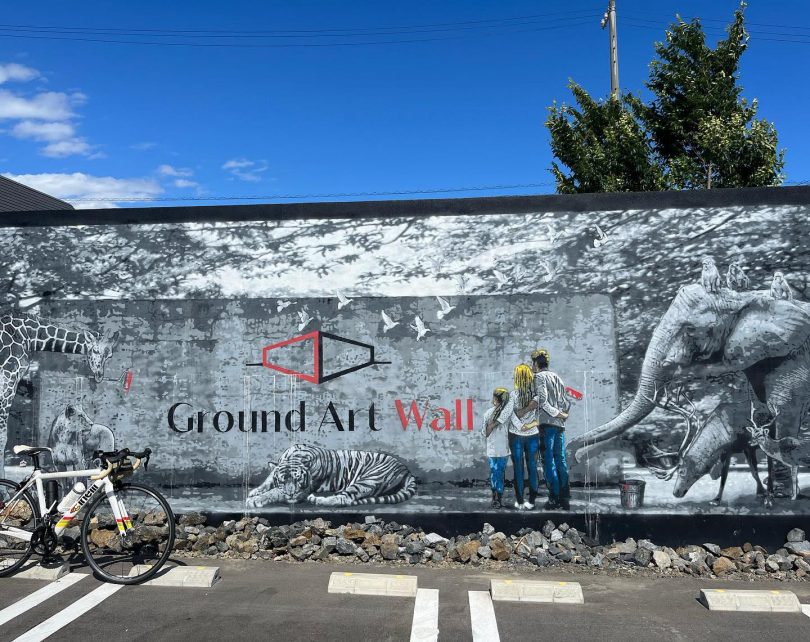 LETHAL WEAPON / Final Weapon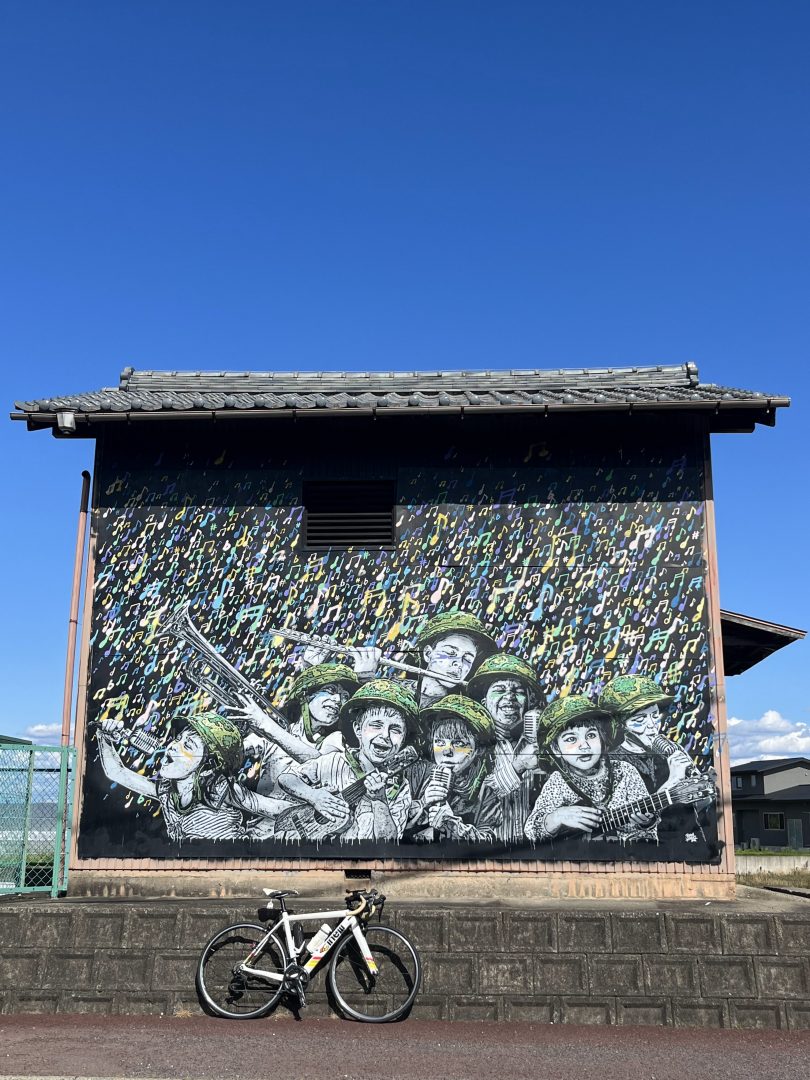 WHEN YOU WISH UPON A STAR / OXFORD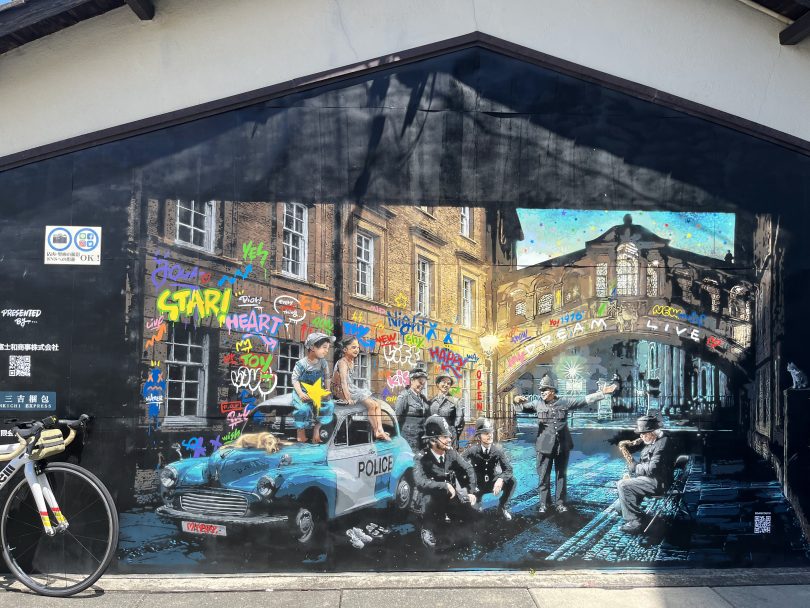 Course Information
Distance: about 27km
Please refer to the bicycle rentals available near the wall art.
Summary
Wall art is usually associated with urban areas, but the works of  Roam Couch were very fresh and wonderful, blending in with the nature and scenery of the beautiful town of Anpachi Town.
There were so many of them, it was fun to run around looking for art, and they were wonderful to see.
I heard that he painted a new one after this one, and I would definitely like to go back and see it again.
We hope everyone will take a bicycle tour of the wonderful, treasure-like artworks that dot the town of Anpachi.
※Locations and maps of each artwork are introduced on Roam Couch's website.
▼Roam Couch official site
http://roamcouch.com/